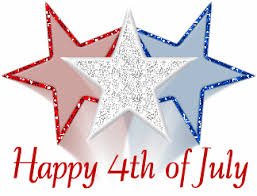 As always, for your reading enjoyment this week, just click on the name of the newsletter or venue to be taken directly to it. Some of the events planned are highlighted below but be sure to follow the links to insure that you are not missing out on any events that may be of special interest to you.
Northville Independence Day Parade – Wednesday, July 4th – 10 am – Downtown Northville
Northville Garden Walk – Wednesday, July 11th – 9 am to 4 pm

The 25th anniversary of the Northville Garden Walk will showcase six private gardens in Northville paired with festivities at the Cady Inn at Mill Race Village. Members of the garden club will have decorated the inn for the day of the garden walk. They invite guests to hear live music by local musicians and enjoy freshly baked cookies. Guests can enter a drawing to win a special anniversary prize. Tickets are available at Gardenviews for $12 in advance, or by mail (order by July 4): On the day of the event, the cost is $15 and tickets will be available at Mill Race Village and at the gardens on tour. The event is a fundraiser that supports local organizations and education. Visit the club's website to learn more.

Wednesday Acoustic Concerts – Wednesdays 7 to 9 pm – Town Square
Enjoy a free family-friendly acoustic concert in Town Square every Wednesday night through the summer.

July 11th – Just JoKen (Favorites)
July 18th – The Johnies (Electric/Acoustic Duo)
July 25th – Jill Jack (Americana)

Friday Night Concerts – 7 to 9 pm – Town Square

July 6th – Randy Brock – Blues
July 13th – Social Bandits – Rock/Funk and Blues
July 20th – Gia Warner – Classic Rock

Northville's Farmer's Market – Every Thursday  – 8 am to 3 pm
Northwest corner of 7 Mile and Sheldon Rd.  For more information on the Farmers' Market, please contact the Northville Chamber of Commerce at (248) 349-7640 or visit them at www.northville.org.
Northville Art House Classes.
The Northville Art House has a brochure online detailing summer art classes for both students as well as adults.  Please click here to be taken directly to it.
NORTHVILLE HISTORICAL SOCIETY
Mill​ ​Race​ ​Historical​ ​Village/​Old​ ​School​ ​Church/​215​ ​Griswold​ ​St.​
Mill Race Village 4th of July Celebration – 11 am to 2: 30 pm

Food and Refreshments from All City Dogs (Hot dogs, pulled pork sandwiches, fresh squeezed lemonade, bottled water, and icec cream available for purchase
Events including:
Flag Raising at 11:30 at the Wash Oak School
Novi Brass Quintet in front of the Hirsch Blacksmith Shop
Citizens of the American Colonies and Friends in the Cady Inn with Colonial Artifacts
Sign the Declaration of Independence in the New School Church
Civil War Sharpshooters Encampment – Demonstrations from 10 am to 2:30 pm
Ottawa Long Rifles, Games, Spinning, and Encampment
Eclipse Baseball vs Wahoo Baseball Club at Noon
Paul Revere & Ben Franklin Debate the Declaration of Independence-2pm by Gazebo
Shopping at the J.M. Mead General Store
Old fashioned games on the Village Green & Plant demonstration by CGCN
New Exercise Classes Commence July 23rd

Pilate's Mat
Beginner I & II Tai Chi
See the Newsletter for registration information

Matter Of Balance – Wednesdays – July 12th through August 29th – 1 pm to 3 pm

A matter of balance is designed to reduce the fear of falling. The program uses exercises to improve strength,coordination and balance along with problem solving and group discussion. Please register through St John's Providence CareLink; www.stjohnprovidence.org/carelink or call 1-800-501-3627.
Beautification and Garden Club – Friday, July 13th – 11:30 am

The Northville Community Center is forming a Garden Club under the guidance of our in-house Master Gardner Trainee, Amy Alandt. Whether you have a green thumb or just want to learn, we would love to have you join us as we develop a patio garden filled with flowers, herbs and vegetables. Amy will educate the group on the plants and the care needed for the garden at the first meeting. A schedule will be developed to water and feed the plants.
If you are unable to make the first meeting please call Amy if you are still interested in volunteering to help with the garden at 248-305-2853. Registration deadline for first meeting: July 11

Coffee with a Cop – Thursday, July 19th – 10:30 am to noon

Join officers from the Northville Township Police Department for coffee and conversation.  This will be an open forum providing the opportunity for community members to interact with officers in a casual environment and allow them to ask questions about thecommunity. The event will be held at the Northville Community Center. Coffee and refreshments provided. Registration deadline is July 13.

Cornhole –  Tuesday and Thursday Afternoon – Beginning August 2nd – 2 to 4 pm

Cornhole is one of the most popular yard games played in America today. We take this outdoor game indoors where you can play in a climate controlled environment (held on the stage). Drop in on Tuesday and Thursday afternoons from 2:00 – 4 p.m. to play. Bring your friends! Fee: $1

Friday Flicks – Fridays at 1 pm

July 6th – Lady Bird

In her senior year of high school, teenage Lady Bird is set on making her way east to attend college in New York City. With help from her adopted brother, Miguel, she begins putting together a plan for her great escape.

July 13th – Battle of the Sexes

In 1973, Billie Jean King, the world's No. 2 female tennis player, took on 55-year old ex-champ Bobby Riggs in a match hyped as the Battle of the Sexes.

July 20th – Three Billboards outside Ebbing, Missouri

When law enforcement fails to make headway on the months-long hunt for her daughter's killer, Mildred Hayes takes the drastic step of putting up three large signs questioning the motivation of the town's widely respected police chief.

Northville Out to Lunch Bunch

This social group meets once a month at 11:30 a.m. Please Register at the Senior Desk. You will receive a confirmation phone call before the event. Meet at the designated restaurant on the day and time of the lunch. Transportation and payment for your meal is on your own.

July 17th – Big Daddy's Parthenon
August 15th – Station 555 in Plymouth
NORTHVILLE DISTRICT LIBRARY
212 West Cady Street/248-349-3020
Afternoon at the Movies – Saturday, July 7th at 2 pm – The Post

Starring Meryl Streep and Tom Hanks,  The Post tells the story of the country's first female newspaper publisher and her hard-driving editor investigating a huge governmental cover-up. 

Register here.

The Early Days of the Ford Motor Company – Wednesday, July 11th at 7 pm

Hear about the early days of Ford through the eyes of Henry Ford's right hand man, C. Harold Wills, creator of the Ford logo and designer of early models A through T, and the focus of Presenter Alan Naldrett's book, Michigan's C. Harold Wills: The Genius Behind the Model T and the Wills Sainte Claire Automobile.  Register here.

Marimba Music with Paul Demick – Monday, July 17th @ 7 pm

While playing beautiful music from the greatest classical composers, percussionist Paul Demick shares his personal musical journey, as well as interesting facts about the composers and their compositions, and educates listeners on his unique instrument, the marimba.  Register here.
MAYBURY STATE PARK
20145 Beck Road/248-349-8390
Music at Maybury  Mondays, July 10 through August 21 from 7 pm to 8:30 pm at the Trailhead building
Ride your bike, bring a lawn chair, pack a picnic and join us for some free family friendly entertainment. This year Music at Maybury will feature the following artists:

July 9 -Undecideds (Acoustic )
July 17 – High Street Band (Garage)
July 23 – The Maybury's (Garage)

Introduction to Geo-Caching – Saturday, July 14th from 10 am to Noon

Go on a high tech outdoor "treasure hunt"!!  There are presently about a dozen geocaches hidden in Maybury Park — bring your GPS or smart phone and join us in finding a few of them. Fun for the whole family. We may have extra GPS units available to use for the day, or bring your own. Be prepared to walk about 2 miles, on and off paths, and bring insect repellent and bottled water. Everyone welcome, suitable for all ages! No registration necessary.

2018 Road Runner Classic – Saturday, July 21st

Enjoy a beautiful summer evening and participate in one of the races. There are three: an 8K, a 5K, and a 1 Mile Fun Run/Walk. Family fun during the races includes face painting, hand-on activities, and a baby farm animal petting area. Postrace activities include: pizza, live music, libations, homemade baked goods, and much more. Whether you've been running for years, or just getting started, join the fun and run the "Classic". For more information and to sign up for the race go to www.northvilleroadrunners.org.
MAYBURY FARM
50165 8 Mile Rd., Northville/248-916-3033
TIPPING POINT THEATRE
361 East Cady Street/248-347-0003
Jazz at the Pointe – Dave Bennett Quarter – Saturday, July 7th

Entirely self-taught, he began at age 10 on clarinet listening to and quickly playing along with Benny Goodman records. At 12 he was invited by legendary jazz trumpeter Doc Cheatham to the bandstand of New York's famous Sweet Basil jazz club. By 14 he was out frequently touring around the USA with Michigan's New Reformation Dixieland Band. Later self-taught instruments were the electric guitar and "boogie-woogie" style piano. Bennett is a blazing clarinet sensation playing the "swing style" of Benny Goodman. Leading his Tribute to Benny Goodman, he has been a featured soloist at Carnegie Hall with The New York Pops (2013) and has played the program with 50 other US and Canadian orchestras.  Tickets can be purchased by clicking here.

The Impossibility of Now – July 19th through August 19th

When a freak accident leaves Carl – a successful science writer – with amnesia, his wife, Miranda, has to help him pick up the pieces. The only problem is their marriage was already heading towards trouble.With Carl's memory loss and new personality, Miranda struggles to see past the man he once was and has to decide if she wants to help him remember.
Art in the Park – July 13th, 14th and 15th

The 39th annual Art in the Park will have 400 artists from around the U.S. will be offering paintings, sculpture, ceramics, jewelry, fiber, glass, woodwork, photography, folk art & much more. Entertainment and cuisine will complement the art exhibitors, creating a sensory filled weekend experience. Parking is Free! The shuttle is $3.00 round trip for adults. Kids 12 & under ride for Free. The shuttles will be operating continuously between Schoolcraft College (South Lot) & Plymouth City Hall.  A full listing of the various artists as well as special events can be found here. 

Music in the Air, Summer Concert Series – Friday Evenings – 7pm – Kellogg Park

July 6th – Larry Lee and the Back in the Day Band – Funk and Soul
July 20th – Boogie Dynomite

Wednesday Night Workouts –  6:30 pm – Kellogg Park
Weekly opportunities for everyone in the community to take their first steps to a more active and healthy lifestyle.  Sessions are beginner friendly, suitable for all ages and are led by the top instructors in the community
Plymouth Community Farmer's Market – Every Saturday – 8 am to 1 pm
The Market is located Downtown in the Gathering and on the street in front of the Penn Theater. Market vendors will be selling flowers, plants, produce, cheese, sauces, honey, jams & jellies, baked goods, bath products, candles, jewelry, crafts, and much more
PLYMOUTH DISTRICT LIBRARY
223 South Main/Plymouth/734-453-0750
Pewabic Pottery History – Saturday, July 7th – 11 am

Kimmie Dobos, Pewabic Pottery archivist, details Pewabic's 115-year history in the city of Detroit.  The discussion will include rarely-seen photographs and artifacts from Pewabic's past and present, as well as a virtual guided tour throughout the Pewabic home on E. Jefferson Avenue.  The presentation will conclude with an inside look at the process of creating and installing the Library's mural.  Sign-up online.

Making Sense of the New Tax Law – Wednesday, July 18th – 7 pm

Wayne Titus, CPA, PFS, AIFA, AMDG Financial, discusses how the 2017 Tax Cuts and Jobs Act will affect taxpayers, and offers tips on how to adapt to the  new law. Sign up here
CHERRY HILL THEATER
50400 Cherry Hill, Canton/734-394-5300
CULTURE SOURCE
Culture Source is the website for the Arts and Culture Alliance. A full calendar of events can be found by clicking here.
Play Ball!  Baseball at the DIA – March 29th thru Sept 16th
Detroit Institute of Arts/5200 Woodward Ave, Detroit/(313) 833-7900
Celebrate the great American pastime of baseball in this exhibition that features artworks from the DIA's collection as well as rare baseball cards, memorabilia and collectibles. Free.
U of M Musical Society
Tickets for the 2018-2019 Season go on sale May 1st.  At UMS, they commit to bringing a dazzling array of artists.   To view the entire season and get ticketing information click here.
CRANBROOK
39221 Woodward Avenue, Bloomfield Hills/248-645-3200