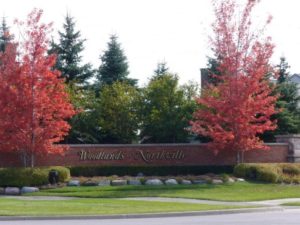 Woodlands South Condominium Association is located in a naturalized setting at the South West Corner of 6 Mile and Sheldon Roads in Northville Township, Michigan. Originally constructed by Pulte Homes, the complex encompasses approximately 80 acres of land, complete with four separate retention ponds as well as wooded areas where birds, rabbits, deer and other wild life abound. Our first residents moved into the community in May, 2002 and construction was completed in July of 2004.  View a map of the subdvision.
Unlike most condominium communities, Woodlands South has an abundance of land which is landscaped with turf, trees, shrubs, flowers and grasses.  This landscaping, coupled with the design of the buildings, helps give the community the appearance of a single family subdivision All buildings, when viewed from the street appear to be large single family homes but are in actuality composed of two separate condominium units, one a ranch and the other a cape-cod.
Woodlands South is ideally located between two, quaint, historic downtowns: Northville and Plymouth, both offering multiple opportunities for shopping, dining and entertainment.   If a shopping mall is more to your liking, then 12 Oaks and Laurel Park Place are a short drive away. Quick access to I-275 and M-14 also puts Ann Arbor and Detroit conveniently available for additional shopping, cultural, or sports activities. For those who long for a vacation or need to fly for business, Detroit Metropolitan Airport is but 20-25 minutes away.

Paved trails border the grounds, cut through the pond and wooded common areas and connect the community with Millennium Park on its western border, providing ample opportunity for walking and enjoying the outdoors.   Additional nature areas, as well as recreational opportunities, are minutes away in Hines Park or at Maybury State Park. Two highly regarded golf courses: Northville Hills and St. Johns are within a mile of the community.
More importantly, we are a community made up of neighbors who truly care about each other.  Active committees such as Social, Communications, Architectural, Landscaping and Rules and Regulations assist our Board of Directors in achieving a vibrant community dedicated to maintaining not only the value of our properties but also the values of our lives.  View some photos of our activities. As you enter Woodlands South, you truly understand the words "Welcome Home".