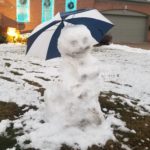 Someone on Aspen Ridge added a little bit of whimsy to their snowman by adding an umbrella.  Wonder if its because he is on his way to Florida to get away from the cold and dreariness that is winter in Michigan.  Thank to Cres Schwartz for taking and sharing this picture with us.  It has to make you smile.
Parks & Recreation offers online programs
Many popular exercise programs will resume in 2021 on Zoom. The Community Center is closed. In person classes have been suspended until further notice due to COVID-19. Visit the Parks and Recreation website for information on new programs and for refunds, credits, and rescheduling programs and events.
Don't flush wipes
Remember to put personal wipes and baby wipes in the trash, do not flush them down the toilet even if the package says they are flushable. While wipes may be branded as "flushable," they create problems in the sewer lines due to the vast quantity being flushed. Plus, the wipes can become entangled in sewer parts and bind together with other wipes and any grease that's in the sewer. Fats as well as wipes should be thrown away not flushed away.
Recycling of Christmas trees
Did you know that GFL will pick-up your Christmas tree?  Just place it curbside no later then this week and they will take it away.   Please note that trees taller than six feet must be cut in half.
Northville District Library Adult Events
 Inspire – Northville Senior Citizens Newsletter –  January/February, 2021 Issue
This is a brand new issue so be sure to check it out so you don't miss out on any information or events that are important to you.

There are two yummy virtual cooking classes planned, "Beet Risotto for Two" and "Molasses and Lime Glazed Port Tenderloin"

Information is provided about Northville's virtual exercise classes that commence this week designed especially for seniors:

Silver Stretch and Strength

Virtual Silver Chair Yoga

Virtual Healthy Hips and Back

Virtual Zumba Gold
There have been no Weekly Updates from Plymouth since November 11th
Rhapsody: Music w/Lee Murdock January 10, 2021 Ships that go down & ships that come in

This event is pre-recorded and will be available on our YouTube channel on January 10th.  No registration is necessary.

Broadly acknowledged as "the premier interpreter of songs and tales about the Great Lakes," Lee Murdock has uncovered a boundless body of music and stories in his home region.  To listen to Lee Murdock's music is to visualize the long, heavily laden deck of an iron ore freighter being tossed by malevolent waves, to envision a choir singing, feel a lover's lament, nurture a love for an isolated shoreline … and much more.

Researching Genealogy in Digital Libraries from Home – Tuesday, January 26th – 7:00 to 8:30 pm

Kathy Petlewski, librarian and NGS Magazine columnist, will introduce attendees to several lesser-known free digital libraries containing local history and genealogy information, including HathiTrust Digital Library, the Digital Public Library of America, and FamilySearch Digital Library. During this virtual presentation, learn how to structure searches and then filter and limit hits for the best results using these products. This program is aimed at family history researchers who are comfortable searching online and are eager to explore new resources!